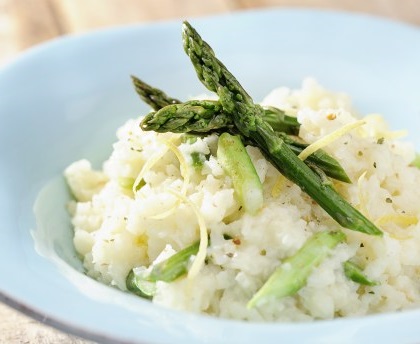 Difficulty :2/4
Preparation : 30 min
Baking : 20 min
List of ingredients

Serves 4
300g of arborio rice
300g of green asparagus
3 shallots
1l of vegetable broth
Parmesan cheese
Olive oil
Salt, pepper
Preparation steps

Wash asparaguses. Cut stalks in slices and keep tips
Peel and chop shallots. Brown in a pan with olive oil
Rinse the rice. Add it to shallots and cook until it becomes translucent
Add the slices of asparagus
Add a ladle of hot broth, mix. When the broth is absorbed, add another ladle, and to mix again. Run the operation until the complete cooking of the rice (approximately 15 min over medium heat)
When the rice is cooked, add the Parmesan cheese. Salt and pepper
Pan the asparagus tips during 2 min and put it down on the risotto
Dress and enjoy with the Cuvée de Réserve 2010 served around 9°C. Bon appétit !